8Bitdo SFC30 Gamepad 30th Anniversary Edition game controller for Android, iOS(iCade) and Mac/PC systems.
This Super Famicom™ / Super Nintendo™ wireless controller has 8 buttons and 1 directional pad.
With its
Xtander phone stand
(sold separately), it is the perfect controller to play all your retrogaming games and other platform games on mobile device.
Key features :
8Bitdo SFC30 Gamepad 30th Anniversary Edition
Game control keys : D-pad, Select, Start
Game buttons : XYAB + L and R triggers
Connectivity : wired/wireless
Interface : Bluetooth/USB
Bluetooth version : 2.1
Battery capacity : 480 mAh
Battery type : Li-Ion
Width : 14.4 cm
Depth : 2.4 cm
Height : 6.1 cm
Micro USB charging cable included
"FC 30th Anniversary" key ring included
1 year warranty
Compatible with all PC and Google Play™ retrogaming emulators (NES, SNES, GBA, Master System, Game Gear, Mega Drive, Nec PC Engine, Neo-Geo, Arcade)
Compatible with Google Play™ plateforme games supporting controller use
Compatible with iCade™ games on iOS™ (iPhone/iPad™)
Compatible with Android™, iOS™(iCade), MacOS™, Windows™
Manufactured by 8Bitdo®
Color gray, multi
Box version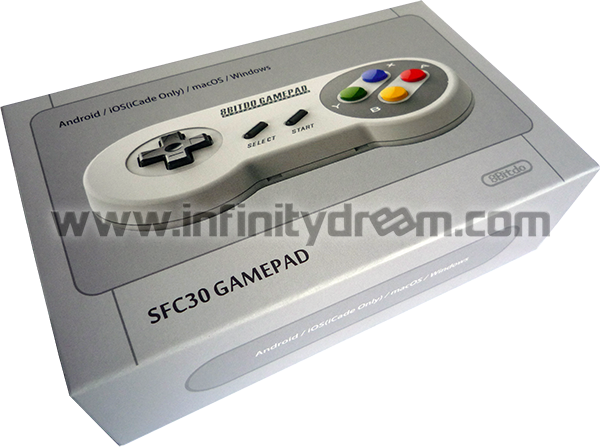 8BitDo, SFC30, Gamepad, Bluetooth, Wireless, Controller, Android, iOS, Mac, PC, Mobile, SNES, Super, Famicom, Nintendo
There are currently no product reviews.