Special LOCA (Liquid Optical Clear Adhesive) UV glue tube for bonding of LCD touch screen.
Low viscosity suitable for all Samsung Galaxy™'s phone screens or other smartphones.
Polymerization via UV exposure only (UV sunlamps or sunbeams).

Warning : Keep the UV adhesive in a cool, dry, dark place (without UV radiation). Bring to room temperature only when using.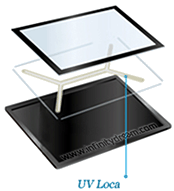 Indicative amount of glue for each Samsung® phone :
- Galaxy S : 0.9 ml
- Galaxy S2 : 1.1 ml
- Galaxy S3 : 1.33 ml (6.2 x 10.75 cm)
- Galaxy S4 : 1.42 ml (6.4 x 11.1 cm)
- Galaxy S5 : 1.46 ml (6.45 x 11.35 cm)
- Galaxy Note : 1.7 ml
- Galaxy Note 2 : 1.76 ml (7.1 x 12.4 cm)
- Galaxy Note 3 : 1.84 ml (7.25 x 12.7 cm)
- Galaxy Note 3 Lite : 1.7 ml (6.9 x 12.3 cm)
Key features :
LOCA UV glue tube (50g) = 50 grams
Specially designed for small and medium size LCD touch screens
Capacity : 55 ml
Material : Acrylic
Appearence : Transparent
Viscosity : 2000 mpa.s (25°C)
UV intensity : 3000mJ/cm² (full cure)
Transmissivity : 98.9%
Shrinking : 3%
Cloudiness : <0.2% (null)
Yellowing : b<1 (none)
Manufactured by Yichang Fine Chemicals®
LOCA, UV, Glue, Tube, 50g, 11, ml, YC3195LV, Viscosity, 1600, 2000, Liquid, Optical, Clear, Adhesive, Where, To, Find, UV, LOCA, Glue, LCD, Touch, Screen